Can you tell me what is strange with this picture, which shows the browsers that have been used to view the pages on this site during the three days since I moved?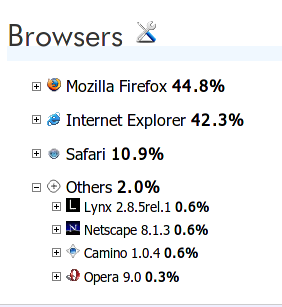 If you say: "That Firefox has almost 50%, and more than IE", you're part right. On the other hand: it is not surprising, is it? After all my plugging for it here, one would really have to be a n00b to use IE, right?
It is not either that "Lynx" is represented, with a whopping 0.6%. Lynx is a text-based browser, quintessentially retro, which is fine for a site like this one and great for quick lookups, because it starts immediately — no need to wait for a modern browser to load all its bells and whistles if all you want to do is check for new updates at Things Twice, now, is there? (the only surprising thing is that it's Lynx and not one of its more capable cousins, like Links or Elinks).
No, what's really surprising here is the number at the bottom: that Opera is used by 0.3% only of my visitors — even less than Lynx! — that's a surprise. I know these numbers are not statistically significant or anything, but nonetheless: Opera is the best browser of them all, really: 50% faster than Firefox and 100% faster than IE, according to recent studies; comes with an email program and a newsreader as well; is even more standards compliant than Firefox; works on all platforms, Linux, Mac, and Windows; and has some features that others don't. The only reason I'm not using Opera is the Vimperator extension to Firefox, which I can't live without, but if it wasn't for that, I'd be on an Opera any day.
So, you might ask, if Opera is a such a damn good browser, how come nobody uses it?
Opera is one of the casualties of the Free/Open Software war where Firefox is the true winner. Opera actually used to be a program you'd have to pay for — fairly unthinkable today, and that didn't last so long either: you could soon get it in a free version with a banner ad at the top which you couldn't remove. Fair enough, it was still the fastest browser around, and the most configurable one, and banner ads are all over the place anyway, so one more or less . . .
Then even that disappeared. Today's Opera is totally free of such commercial bindings, and we're back to the mystery again: why is the fastest and most able browser out there stuck at 0.3%? Well, in the meantime, Firefox had had its tremendous success and had more or less exhausted the field of "Alternatives to IE". Besides, even though Opera is Free as in beer, it is still not Free as in speech — the source code is not open. For most people, that is completely irrelevant — who has ever looked at the source code of Firefox, other than geeks and software developers? — but ideologically, it apparently makes a difference.
But 0.3% . . . Let's put it this way: if you're looking for a blazingly fast, small browser with excellent functionality, I suggest you try it out.